Hi, great to meet you!
I'm the founder and creator of SO GUILTY Iconic Nails, my name is Ilse Koninckx and i'm in the nail business sinds 1998.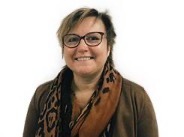 Nails i my passion! Is have my degree as beautision sinds 1998 and then i followed a month course to become a nailtechnician. That was the beginning and i kept studiing, not only to improve my nail skills, but also the much deeper practical side.
That is when i realised that there was to little eye for estetique, even if we make the most wanderfull nails the products jars where in the most simple package. Also that brushes where often simple round and you needed more skill to be able to get good result. Pigmentations also was often a problem, so you had to use 3-4 layers.
I made a list of all what had to change and SO GUILTY Iconic Nails was created, from nail technicians for Nail technicians.
Easy to apply brushes with the best quality of hears for the needed application, a package where you can be proud of and what gives your client the confidence that you are working with high level quality products.
I didn't do all of this on my one, i have a great team!
I invite you to visite out website www.soguilty.eu to find out more about SO GUILTY Iconic Nails
And if you have a questions, or maybe you want to become a distributor please contact me ilse@soguilty.eu
Do you want to know more about our mission and vision? Visite www.soguilty.eu
see you soon :)
Friendly regards
Ilse ;)
Are you from Belgium or Netherlands please order here.
Is you're country not in the shipping list? Please contact ilse@soguilty.eu